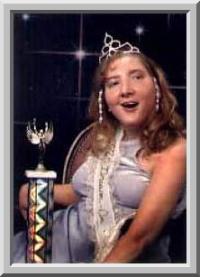 MS. DREAM ON 1997
MELINDA LEE OSBORNE
October 2nd, 1971-July 6th, 1998
Melinda Lee Osborne, "Mindi", arrived on this earth on October 2nd, 1971, her due date. On that day an Angel was born and my life changed forever. Mindi was born the way she approached life-FEET FIRST! As this is a good way to approach life, it is not a good way to be born. Since Mindi was breech she wasn't breathing when she was born. Even though they gave her oxygen right away and got her breathing, the damage was done. Mindi had Cerebral Palsy.
MELINDA

I remember when she was born and didn't take a breath.
I cried to the Doctor, "My child is born in death!"
The Doctors hurried; they brought her back right away.
God said,"She has work to do, I will let her stay.
She'll travel far, though she won't walk.
She'll teach us much, though she won't talk."
That she did, tackle the world by the horns.
Till the day she died, from the day she born.
Her eyes, how they sparkled, like sapphire blue.
A toss of her head meant "I Love You".
Her heart was of gold, 24 caret at that.
Her smile warmed the room, from where ever you sat.
Her hair was of silk, brushed daily with love.
Her laughter would fill the Heavens above.
Do not grieve, my Mindi would say.
For she lived life to the fullest day.
The world is such a much better place.
Since Mindi blessed it with her love and grace.

Frannie Osborne 1999
Though her physical disability was severe, her mental ability wasn't touched. All her life she would need total care, but her sense of humor and empathy for others made her a very unique individual.Her zest for life and uncanny awareness of a persons feelings leave a very huge void in everyones lives she touched.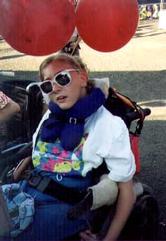 She lived life as any "normal" person would, except she was in a wheelchair. She had a family. She went to school. She had many, many friends. She traveled. She went to Disneyland twice and Disneyworld the summer before she died. That was the year her world was crushed, for she found out her"love" Goofy was not real. Even though she was of "normal" intelligence she still maintained a "childlike fanatsy world."
She went to Washington DC and to Canada to Expo 86. She went down water slides at the park and she reversed bungy jumped. When asked if she enjoyed the reverse bungy jump she indicated yes. When asked if she would do it again the answer was no.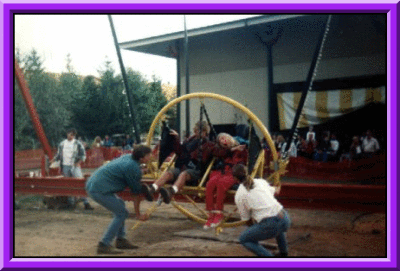 She went through life like you and me. She lost her father when she was 16 months old and a baby brother when she was 8 years old. She went to the Senior Prom. Even had a date. She went to the Senior all night party and had a great time with all her friends. She participated in the graduation ceremonies. She "signed" yearbooks and had her senior picture taken.
She was even a Teachers Assistant in a preschool for a couple of years. Yes, Mindi had a good life.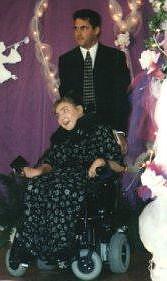 In early 1998 Mindi indicated to me she was having trouble breathing. I took her to the Doctor. Of course they could find nothing. We were sent to a specialist. He didn't seem to have the answer either. We were sent to the hospital to have tests done. Everything appeared normal there too. We were still trying to find the answer. We never did.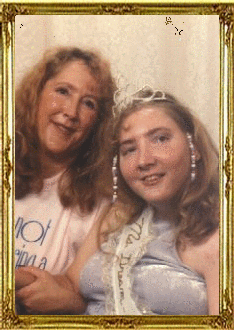 I sent her to her evening program that she attended a couple nights a week. Something told me she should stay home but there wasn't any clear reason why. They called me and told me Mindi was having trouble breathing. She was taken by ambulance to the hospital. When I got there she was on oxygen and looking good. They had taken an x-ray and said she had Pneumonia. It looked like it was going to be an easy problem to fix. I got her settled in her room and told her that though she wouldn't be able to be in the 4th of July Parade she would be well enough to go on her vacation to Colorado to visit her friend later in the month. I gave her a kiss and told her I would see her in the morning.

YOU WILL ALWAYS BE MY ANGEL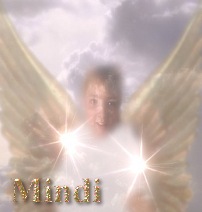 The next morning the hospital called and told me Mindi had gone into respiratory arrest and that she was now on life support. Three days later we turned off the machine. Mindi took one short breath and went peacefully to Heaven.
GOD...Bless this precious one,that you have taken there;
  Place on her Angel wings,and halo in her hair.
On earth she was so giving,so trusting in her ways.
 So honest in her believings;so happy in her days.
We'll never know why this happened
nor will we ever understand;
But we know she'll walk down heavens road,
Holding your almighty hand.
Her family and friends will miss her,memories will be of laughter and love
She was a God send here on earth
Now she's an Angel up above.

This poem was written by Jessie Plemel-Sperry