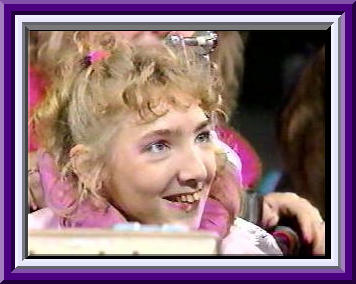 Melinda Lee Osborne was born October 2nd, 1971.An Angel was born that day. I had the pleasure to be her Mom. Mindi taught me much, though she couldn't talk. She was born with Cerebral Palsy and approached life for all she was worth. On July 6th, 1998 she took those Angel wings of hers and went to Heaven, where she now can laugh and run with the angels amoung the clouds.

MINDI'S LEGACY

Please visit AngelChild for Mindi's legacy.
Click here to go my link of "Special Angels"


MINDI'S LIFE STORY
On these pages (several, like a book) you will find a complete story of Mindi. It is still under construction.

MINDI MEMORIES
Here you will find the page that will explain what Mindi was like. Some of the main events in her life are highlighted. It is also the only page that tells about her death.




Poems I have written about Mindi in different stages of my grief.


Mindi loved baseball. Our home team is the Mariners. One time she "ran" the bases. Her favorite player was Jim Abbott who played for the Angels and had one hand.





Mindi enjoyed the Fourth of July. It was a day she could wear her flag clothes and use her power chair to run over pop-its. It was a day the family got together.

Mindi and Mike met in 1993. They enjoyed five years together. Enter here to see some pictures of Mike and Mindi.
PARTIES
Mindi loved parties. It was a time when all her friends would get together. Every birthday was a day of celebration. Here you will find her first cyber birthday party after she died.

THE RIVER
My newest page. The song The River was played at Mindi's funeral. Here is the music and words.



ANGELS
Several people have made me an angel picture of my angel Mindi. Visit this page and you will see these pictures and some angel poetry


MINDI THE
ARTIST
Mindi loved art. She liked to finger paint. This is my favorite page. It is linked with another page. This goes right to it. (At the moment, I haven't repaired this page. Will try today, April 23, 2001)


<!Begin My Parents Are Survivors Ring>