My angel always reached for the stars.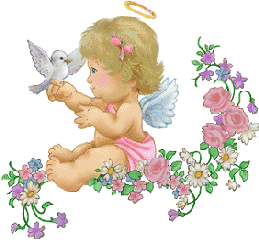 July 1st, 1998
Today it is two years exactly since I saw the Mindi I once knew. The day started off just like any other day. The tears fall from my eyes as I recall that day. I remember apprehension that day about sending you to your program. I was going to keep you home but knew of no reason why. You loved to go so much. The van would come and pick you up. You liked to take care of Donnie. At meal time, if everything wasn't right, you'd let them know! The trouble all started when your feeding pump was stare. Im sorry Mindi, I wasn't there. I did rush right away to the hospital. I saw you there. You looked pretty good. THey had already done an x-ray and said you had pneumonia. No one seemed to concerned. A couple of days in the hospital with antibiotic by IV and she should be fine. You wanted to be in the fourh of July parade so bad. This was a first for you. You were going to represent Ms Dream On 1997. It was all arranged. I told you, "NO Mindi, not this year, but next year. (How those words hurt!) I did tell you, Mindi, that you would be well enough to go visit your friend in Colorado.You flew my Angel, just not to Colorado. We talked some more, as you layed in the hopital bed. You had a question on your mind. It was my last 20 million question game with you. That was how we communicated since you couldn't talk. It turned out you wanted to have the door close to your room.....so you could sleep. Now my Baby sleeps forever.
JULY 2, 1998
This is really the day I lost you Mindi, even though the date of death is July 6th. The nurse started the feeding pump and left the room. I thought of that the night before Mindi. I thought, "Maybe they shouldn't start the pump till I got there." Why didn't I follow through with my feelings? Were you scared baby? I'm so sorry Mindi. I still don't know what went wrong. They said they found 5 cc's of formula in your thorax. You had stopped breathing when they found you. I'm sorry, so sorry I wasn't there.It still hurts so bad Mindi....The hospital called and told me you had gone into respiratory arrest and were being kept alive by machines.I'm so sorry honey. I love you and miss you very much.
July 3, 1998
This day is mostly a blur. Nothing seems real anymore. The worst thing I could ever imagine has happened. My Mindi, my lifetime buddy,is laying in a room hooked up to machines. You are not there, it is just a shell of who you once were. I order a catscan to check for brain activity. I haven't given up hope yet. Phone calls are made to the people that need to know. Your boyfriend is here. Your best friends. Your family. Your caregivers. Mindi help me please. How can I go on without you? The pain is horrible Mindi. It is like half of me has died too.
July 4, 1998
You loved the Fourth of July. There were picnics and family get togethers. You had your flag clothes you and I would wear. Your Auntie Karen and cousins came to the hospital today. We brought you a Fourth of July balloon and we put your flag socks on you. Flowers too of red white and blue. They brought you a participant ribbon today from the parade you were suppose to be in. It touched me so I broke down and bawled my head off. We went home and did the biggest firework display we have ever done. All in honor of you Mindi. Purple fireworks for you. The fourth now will always be a memorial display for you darling.
July 5, 1998
Things get so foggy now. So many things to do. So many decisions to make.Another catscan had been ordered by me.The results are the same Mindi. You have no brain activity. I did what I did the first time you were going to die....I put it in Gods Hands. We get in a big disagreement with the hospital staff because they were not positioning you properly. They probably laughed at us behind our back. I don't care. I took care of you for 26 years and I will do it till the end! Tomorrow, July 6, we will have the machine turned off.
July 6, 1998
This is a terrible day. We turn your machine off today. There is nothing more that can be done. I know my Mindi, you don't want me to be sad. Sorry honey. Can't help it. We have everyone here. In fact, I'm sure you were laughing on the inside when I commented to the nurse I wish we had 17 people there in the room. Remember? 17 in our family means "a lot". We only had 15. Then the nurse says, "You count me and Mindi you have 17 people in here." So Mindi, there were a lot of people. They turned off the machine and you only took one and a half gentle breaths and then the angels flew with you out the window. The nurse had to tend to your sister because she almost passed out. Life as I knew it ended that day. I love you Mindi.
In Memory of Mindi